Bike to Beat Epilepsy 2021 - Virtual
Bike to Beat Epilepsy 2021 – Virtual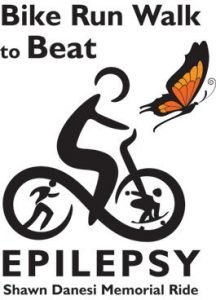 "Join Us" for a virtual, scenic bicycle ride, walk, run or skateboard in your community or at  Swartswood Lake in Stillwater, New Jersey. The ride will benefit the Epilepsy Services of New Jersey and is in memory of our sister, Shawn Michelle Danesi. We thank you in advance for your support of this most worthy cause.

xo – The Danesi Family (Linda, Mike, Nicole, Gina, Holly, Amanda & Josh)   
Event Details

Event Date: Virtual Event – October 2021
Start/End Location: Ride, walk or run in your community 
Distance: Approx. 8 to 16 miles
Individual Suggested Donation: $25 
Family Suggested Donation: $50 
Shawn's Story
Shawn Michelle Danesi was a brilliant daughter, sister and friend. She had a special way of making people smile. She loved her family very much as they love her and miss her every day.
Shawn was a brilliant and talented actuary. She created a wonderful career for herself, was respected by her colleagues and loved her new home in Hoboken.
Shawn was a model human with a difficult disability. She never regarded Epilepsy as such and always lived her life fully each day without apathy. Unable to drive, she proudly took the train and the bus to work each day. It wasn't always easy in the snow and the rain, but she did not complain. She worked very hard as an actuary, solving complex statistical problems on a daily basis. While numbers came naturally to her, so did her ease of acceptance of who she was, never letting anyone tell her to be someone else.
Shawn had struggled with epilepsy since her first seizure as a young girl. Her parents took incredible measures to make sure that she always had the best medical care, she was their first of six children and they loved her more than any parent could. She went on to graduate top of her class and study at Boston University and then Ohio State for her Master's degree in statistics.
She lived a full, rich life acheiving all of her greatest dreams and never letting epilepsy run her life. She was a proud aunt and loved playing with her nieces and nephews.
Sadly, she succumbed to epilepsy at the age of 35. Her family was devastated and continues to struggle with the the loss, finding consolation in continuing her memory and seeking out a cure for this horrible brain disorder. All proceeds from the ride will go directly to Epilepsy Services of New Jersey. Thanks for your support.